Memoirs of a victim of the Coronavirus
Junior shares how the coronavirus impacts her spring break trip.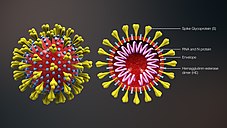 Memoirs of a victim of the Coronavirus
It's no secret. The world is experiencing a crisis. While this story should serve as a testament as to how people are being indirectly affected by the outbreak of this virus, it should not be the only thing that convinces you of its importance. Around the world, hundreds of thousands of people have died. Entire cities have been quarantined, and entire countries have shut down all schools to keep their people safe. I never thought I'd be affected by yet another possibly life-threatening disease, but I have been.
About a year and a half ago, I received a message from my mother asking about a trip the Japanese department at Central Academy had organized with Education First Tours. I had heard of he trip from friends of mine that had taken the trip in previous years, and it sounded like a wonderful opportunity to have new experiences and meet new people. I had been to Japan about three years earlier, over the summer of 2016, and was itching to go back as soon as possible. So, of course, I immediately texted my mom back expressing my desire to go on the trip.
Over the months following that conversation, my family had been making monthly payments to ensure my airfare and hotel fees were covered, as well as securing payment for the tour guides that would be accompanying and helping us while we were in Japan. My excitement was building, and as March approached I could hardly believe I was actually happening! It seemed too good to be true. It turned out to be exactly that.
The very day I had finally gotten a letter from my doctor verifying which medications I needed to take with me halfway across the world and had finished filling out my medical form, my Japanese teacher, who seemed just as disappointed as we were, if not more so, announced to those in my class that were signed up for the trip that it had been postponed due to the Coronavirus. Many of the things we were going to see and tour had been closed, there were growing efforts to keep people from travelling outside of the United States, and so much was happening around Japan in relation to the virus that, even if we did go on the trip, we wouldn't be experiencing Japan to its fullest extent.
There were many varying reactions I observed among my groupmates. There were those who were expecting this cancellation and seemed relatively unaffected, those who were so overwhelmed with disappointment that they shed a few tears, and then there were people like me that didn't quite know how to feel.
I was being torn in two different directions. While I understood that it would be beyond dangerous for us to travel with the virus at its peak, I couldn't help but be disappointed. I had been waiting to return to Japan for four years, and had a sure shot at doing so for a year and a half. The trip has been rescheduled, but who's to say this won't just happen again?
Let what's happening in our world right now encourage you to keep yourself as well as those around you safe. Please, have some common sense. Use disinfectant. Use hand sanitizer. Don't touch your face, cover your mouth when you sneeze or cough, wear a mask if you need to. And, for the love of all things healthy, wash your hands.